---
Stars and Stripes – US military will offer COVID-19 vaccinations to Japanese base workers
Written by tokyoclub on June 16, 2021
CAMP FOSTER, Okinawa – The U.S. military will start inoculating Japanese base workers interested in receiving either the Pfizer or Moderna COVID-19 vaccines, U.S. Forces Japan announced in a joint statement with the Japanese government on Thursday.
Details, such as when the vaccinations would begin or how they would be rolled out, were not included in the release. USFJ did not respond to requests seeking further information on Thursday afternoon.
The inoculations will be performed in close coordination with Japan's own vaccination efforts, which are ramping up ahead of the Tokyo Olympics on July 23. Japanese base workers will not be "treated adversely" if they choose not to receive a vaccine, the statement added.
"Vaccinating local employees will contribute to the prevention of further spread of COVID-19 in Japan and will protect the resilience of the Alliance," the joint statement said. "The vaccinations will also ensure steady operations of USFJ, further enabling the USG to meet its Treaty obligations to the security of Japan."
The U.S. military in Japan has administered tens of thousands of vaccines to American troops, personnel and their families since December.
Though Japan has lagged other developed nations in vaccinating its population, COVID-19 cases have been on the decline in recent weeks after a surge in April and May.
Japan reported 1,699 new coronavirus cases as of 7 p.m. Thursday, 1,362 fewer than the same day last week, according to public broadcaster NHK and the World Health Organization. There were also 59 deaths reported.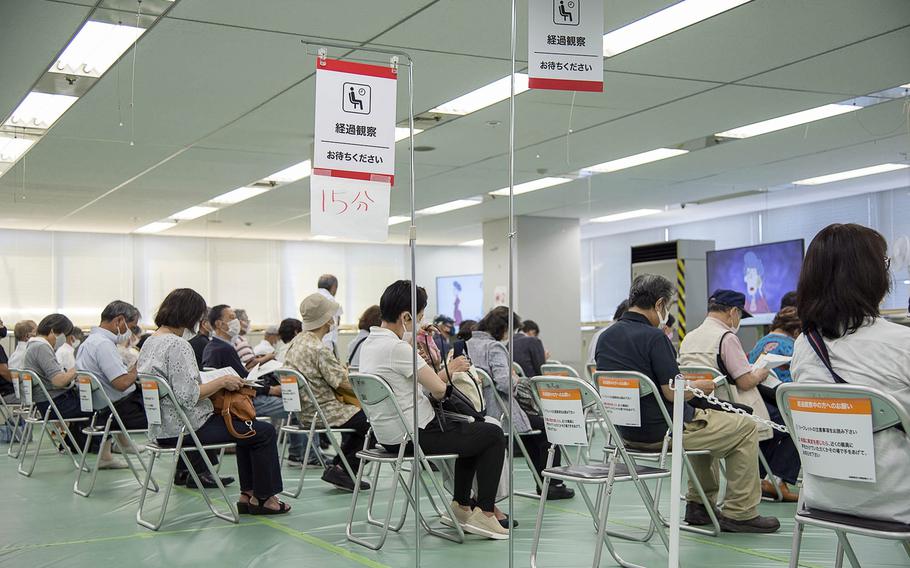 The government has counted 765,000 COVID-19 cases during the pandemic and more than 13,500 deaths, the WHO said.
Tokyo on Thursday reported another 439 coronavirus infections and six deaths, according to NHK, citing metropolitan government data. That's 69 fewer infections than the same day last week.
Osaka prefecture, the nation's second-largest metro area, reported 148 new cases Thursday and 17 deaths, NHK said.
Okinawa prefecture, now experiencing its worst phase of the pandemic, reported another 166 new infections Thursday, according to NHK. The number of new infections is 78 fewer than the same day last week.
New military cases in Japan, South Korea
U.S. military bases in Japan and South Korea had reported 14 new COVID-19 infections – two at Kadena Air Base on Okinawa and a dozen on the Korean peninsula – as of 7 p.m. Thursday.
Kadena's new patients tested positive for the coronavirus respiratory disease on Wednesday, according to a base Facebook post that evening. One self-isolated after coming down with COVID-19 symptoms. The other tested positive before traveling to the United States. Contact tracing is ongoing for both cases.
U.S. Forces Korea had 12 service members test positive for the coronavirus respiratory disease between May 16 and Thursday, according to statements by the command.
Nine of the new patients arrived at Incheon International Airport on commercial flights between May 22 and Sunday, one of the statements said. Two landed at Osan Air Base on the Patriot Express, a government charter flight, on May 30 and Sunday.
The remaining new patient, a service member at Camp Humphreys, tested positive after developing COVID-19 symptoms on Wednesday, according to a separate statement.
All of the newly infected individuals were taken to isolation or quarantine facilities, according to USFK. Contract tracing for the Humphreys case is ongoing.
---
Reader's opinions
---