---
The Japanese government said Monday it will tighten border controls for travelers from three U.S. states, Finland and some other areas in response to the spread of highly contagious variants of the novel coronavirus.

In a set of changes to border control measures taking effect Thursday, those arriving from the U.S. states of Indiana, Kansas and Texas, as well as Finland, will be asked to stay in government-designated facilities for three days after arrival and take additional virus tests on the third day.
The same measure will also be applied to travelers from Georgia, Zimbabwe, Tanzania, Luxembourg and five Russian oblasts including Astrakhan.
Japan will also shorten the quarantine period of 10 days on visitors from Afghanistan to six days in designated facilities, and subject them to more coronavirus testing on the third and sixth days after arrival.
– Kyodo
---
A Great Sushi Chef from Kyoto: Ryuji Fukagawa
UNJAPAN – Aug 02
Discover the exceptional work of a great sushi chef in Kyoto, Ryuji Fukagawa. His apprentice Julien Doukhan also explains the difference between sushi from Tokyo known around the world and sushi from Kyoto.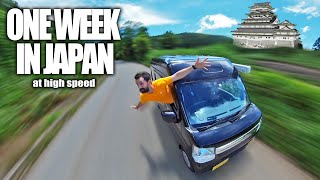 Japan's Most Amazing Spots
Tokyo Lens – Aug 02
I spent an entire week driving some of the most beautiful areas that Japan has to offer.
Visiting The Ancient Japanese Capital Of Kyoto
TODAY – Jul 31
In Tokyo for the Olympics, TODAY senior international correspondent Keir Simmons took the time to visit the ancient Japanese capital of Kyoto, a city of unparalleled beauty and the cultural heart of the country. He also got a lesson in Zen meditation.
Japan's hikers return to Mount Fuji
Al Jazeera – Jul 29
"It is a mountain that is an object of worship." Hikers are flocking back to Japan's iconic Mount Fuji as the active volcano's symmetrical slopes reopen to the public after being off-limits for a year due to the COVID-19 pandemic.
Hiking to Japan's Hidden Forest Shrine
Tokyo Lens Explore – Jul 26
Today we are hiking out to a shrine that I almost didnt think I would be able to find. A hidden shrine tucked in to the forest mountains of endor… er… Japan.
Typhoon approaching Honshu; Olympic rowing events rescheduled
Japan Today – Jul 25
Typhoon Nepartak is expected to approach Japan's main island of Honshu from the Pacific around Tuesday, with rowing events for the Tokyo Olympics already rescheduled to avoid possible disruption should it hit the capital, the weather agency said Saturday.
---
Reader's opinions
---