---
In Japan, coronavirus infections have been surging across the country. The number of new cases exceeded 15,700 on Saturday. It was a new record for the fourth straight day.

The capital, Tokyo, reported its second-highest daily case count.
The metropolitan government confirmed 4,566 new infections. It was the fourth day in a row that the figure has surpassed 4,000. Officials say 150 people are seriously ill.
Experts are expressing a sense of urgency and crisis.
Officials are calling on people to refrain from traveling across prefectural borders. This comes right at the start of the annual Bon holiday period, when people return to their hometowns.
A woman said, "My mother is living by herself, so I'm worried. I've been vaccinated and tested beforehand."
A man said, "I won't see anybody except my relatives. And I won't stay for long."
There has not been the kind of rush at train stations that usually happens at this time of year.
Highways and domestic flights have not been overly crowded either.
– NHK
---
Inside Japan's animal cafe phenomenon
ABC News – Aug 07
ABC News' James Longman reports from Tokyo on animal cafes beloved by the Japanese people, where visitors can have their coffee and relax with pigs, reptiles or otters.
Heat to continue in Japan
NHK – Aug 05
Japan was hit by intense heat again on Wednesday. Authorities are calling for caution against heatstroke as high temperatures are expected to continue.
A Great Sushi Chef from Kyoto: Ryuji Fukagawa
UNJAPAN – Aug 02
Discover the exceptional work of a great sushi chef in Kyoto, Ryuji Fukagawa. His apprentice Julien Doukhan also explains the difference between sushi from Tokyo known around the world and sushi from Kyoto.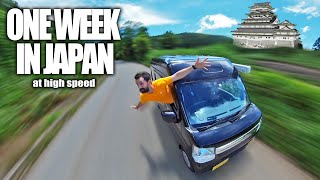 Japan's Most Amazing Spots
Tokyo Lens – Aug 02
I spent an entire week driving some of the most beautiful areas that Japan has to offer.
Visiting The Ancient Japanese Capital Of Kyoto
TODAY – Jul 31
In Tokyo for the Olympics, TODAY senior international correspondent Keir Simmons took the time to visit the ancient Japanese capital of Kyoto, a city of unparalleled beauty and the cultural heart of the country. He also got a lesson in Zen meditation.
---
Reader's opinions
---