---
A monkey has been caught on the premises of Haneda Airport in Tokyo. It is believed to be wild.

An airport worker saw the monkey in an aircraft hangar at around 7 a.m. on Wednesday.
The monkey then moved to a nearby building owned by Japan Airlines. It entered a room that is used to repair aircraft parts.
The animal was caught there by police officers about five hours later. No one was injured.
Aircraft components in the room were not damaged. But wires on equipment used for repairs were bitten.
The worker who notified authorities expressed shock that the monkey had found its way into an airport in Tokyo.
It is unclear whether the captured animal is the monkey that has been seen around Tokyo repeatedly since last month.
The monkey's fate will be determined by officials in Ota Ward. That is where the airport is located.
1匹のサルが羽田空港の建物に侵入し、捕獲されました。これまで都内各地で目撃された、あのサルなのでしょうか。 –
ANNnewsCH
---
CHIKAN: molestation on trains is NO JOKE in Japan!
Let's ask Shogo -Your Japanese friend in Kyoto – Sep 21
You might have an image that Japan is a very safe country with hardly any crimes. But if you take a closer look, the reality might be a bit different.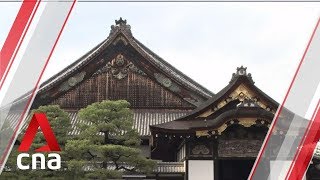 Kyoto is facing bankruptcy. What happens now?
Japan Times – Sep 21
KYOTO – The ancient capital of Kyoto has long been a tourist mecca, attracting domestic and international travelers to its World Heritage-designated temples, shrines and rock gardens.
Tropical Storm Chanthu batters Japan
NHK – Sep 18
People across Japan are bracing for some potentially catastrophic weather. Tropical storm Chanthu has brought driving rain and lashing winds to western and central parts of the country. It made landfall in Kyushu on Friday evening and is barreling to the east.
Kyoto City in Japan | Kyoto Drone Footage | 4K UHD
Urban Looks – Sep 18
Kyoto, once the capital of Japan, is a city on the island of Honshu. It's famous for its numerous classical Buddhist temples, as well as gardens, imperial palaces, Shinto shrines and traditional wooden houses.
World's Coldest BBQ Festival | Hokkaido
ONLY in JAPAN – Sep 17
Japan's Extreme North in Hokkaido is home to some super frigid towns like Kitami, Rikubetsu, and Abashiri. In the middle of winter, at night, one town has a massive meat festival — and it's outdoors in below zero temperatures.
ANA to increase international flights
Nikkei – Sep 15
Japanese airline All Nippon Airways is increasing international flights to meet recovering travel demand in North America and Asia, the company announced on Tuesday.
Inside Tokyo's CHEAPEST Apartment – $100
Tokyo Lens – Sep 13
Today we are taking a peek inside of Tokyo, Japan's cheapest apartment. At just 9,800 yen per month (or, around $100), this is currently the cheapest apartment available in the central Tokyo area.
---
Reader's opinions
---