---
Japanese Prime Minister Kishida Fumio has instructed the health ministry to accelerate work to make oral COVID-19 drugs available by the end of the year.

Kishida met with health minister Goto Shigeyuki on Tuesday and directed him to lay the groundwork for the approval and procurement of oral medicines by year-end.
Goto later told reporters that the government has been supporting efforts to make such medicine available by such means as subsidizing clinical trials.
He stressed his determination to move quickly with the approval process and keep the public informed about the availability of such treatment.
In Japan, drugs designed to treat COVID-19 patients with mild symptoms have so far taken the form of IV drips such as antibody cocktail treatments that require the oversight of a doctor.
Many have expressed a desire to have access to treatment that can be taken easily without any oversight.
---
Japanese rice tastier due to global warming, says Aso
Japan Today – Oct 26
Former Japanese Prime Minister Taro Aso said Monday that rice on the northernmost main island of Hokkaido "has become tastier thanks to (global) warming," a remark likely to raise eyebrows of climate campaigners.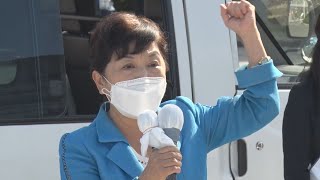 Japan parliamentary race hits record low for candidates under 40
Nikkei – Oct 20
Candidates in their 20s and 30s make up 9.4% and women less than 20% of those running in Japan's lower house election on Oct. 31, highlighting the country's continued struggles with incorporating new and more diverse viewpoints into its politics.
Lack of vaccination passport, testing threaten Japan's reopening
Reuters – Oct 20
Japan's lack of a vaccination passport and limited testing capacity is threatening ambitions to reopen the economy at a crucial year-end period when restaurants earn up to a half of their annual revenue and travel agencies are at their busiest.
Japan dissolves lower house ahead of election
WION – Oct 14
Japan has dissolved its parliament, this sets the stage for the general election at the end of the month. This will pit the newly elected prime minister Fumio Kishida against the unpopular opposition.
Japan to set up $4.4 billion 'vaccine fund' under economic package
Japan Times – Oct 14
Japan plans to set up a Y500 billion ($4.4 billion) fund aimed at supporting firms developing vaccines for infectious diseases and new drugs, under the first economic package to be drawn up since Prime Minister Fumio Kishida took office last week, government sources said Wednesday.
---
Reader's opinions
---