---
A health ministry panel agreed Thursday to offer COVID-19 booster shots to anyone who has already received two doses.

Japan had initially considered giving booster shots to front-line health workers and others who required priority.
But panel members agreed that all people who wish to get booster shots should get one, officials said.
Prime Minister Fumio Kishida has said the government is planning to start administering booster shots in December and that it will shoulder the costs.
Last month, the health ministry decided to give booster shots to people who have gone at least eight months since receiving their second dose, citing studies that show antibodies that protect against the disease decrease over time.
3回目のワクチン接種は、対象者の優先順位を付けない方針が固まりました。
 厚生労働省の分科会は、新型コロナワクチンの3回目の接種の対象者について話し合い、2回の接種を完了した人全員を対象とすることで了承しました。
 2回目まではまず、医療従事者や高齢者などを優先して接種が行われましたが、3回目は優先順位を付けず、2回目の接種の終了後、8カ月が経った人から順に接種券が送られる見通しです。 –
ANNnewsCH
---
Japan holds general election on Sunday
voanews.com – Oct 29
Japanese Prime Minister Fumio Kishida's term in office may be short-lived and his Liberal Democratic Party could lose its majority, according to recent polls by the Yomiuri Shimbun and Asahi Shimbun daily newspapers, Reuters reported.
Kishida's nuclear push faces resistance ahead of election
Reuters – Oct 28
Prime Minister Fumio Kishida's push to restart Japanese nuclear power plants idled after the Fukushima disaster faces stiff opposition ahead of a general election on Sunday, where his future as leader hangs in the balance if the vote is tight.
Japan to become world's No. 3 donor of COVID vaccine doses
Japan Today – Oct 27
Japan will become the world's third-largest provider of COVID-19 vaccine doses, with donations to 20 countries and regions set to reach 30 million following another planned delivery to Taiwan, the foreign minister said Tuesday.
Japanese rice tastier due to global warming, says Aso
Japan Today – Oct 26
Former Japanese Prime Minister Taro Aso said Monday that rice on the northernmost main island of Hokkaido "has become tastier thanks to (global) warming," a remark likely to raise eyebrows of climate campaigners.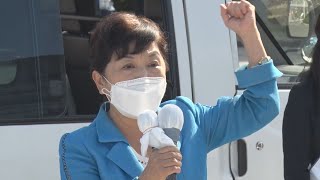 Japan parliamentary race hits record low for candidates under 40
Nikkei – Oct 20
Candidates in their 20s and 30s make up 9.4% and women less than 20% of those running in Japan's lower house election on Oct. 31, highlighting the country's continued struggles with incorporating new and more diverse viewpoints into its politics.
Lack of vaccination passport, testing threaten Japan's reopening
Reuters – Oct 20
Japan's lack of a vaccination passport and limited testing capacity is threatening ambitions to reopen the economy at a crucial year-end period when restaurants earn up to a half of their annual revenue and travel agencies are at their busiest.
---
Reader's opinions
---