---
Voters in Japan gave the main ruling Liberal Democratic Party control of the Lower House in Sunday's election.

Prime Minister Kishida Fumio's party secured what's called an absolute stable majority, even without the help of its coalition partner. This ensures it can easily shepherd bills through the House.
The LDP secured 261 of the 465 seats in the powerful chamber.
Its junior coalition partner Komeito won 32 seats, a net gain.
On the opposition side, the Constitutional Democratic Party will remain the largest opposition party. It secured 96, down 13 seats from what it had going into the election.
Nippon Ishin Japan Innovation Party won 41, more than tripling its share in the chamber.
The LDP will once again have the power to chair and hold half of the seats on all standing committees.
The prime minister has been in the role for less than a month. He says voters have now given him a mandate, and he will work to follow through on his campaign promises.
But the party's top executive suffered a personal setback. Amari Akira has become the first sitting LDP secretary-general to lose a single-seat district vote.
Although he secured a seat through proportional representation, he conveyed to Kishida his intention to resign from his post. Amari oversaw the LDP's election campaign.
Adding in the seats secured by Komeito, the ruling coalition is continuing its political dominance.
The coalition also controls the Upper House.
---
Japan votes in lower house election
NHK – Oct 31
Japan is voting in its first general election in the pandemic era. It's an early test for Prime Minister Kishida Fumio, who took office less than a month ago.
Japan holds general election on Sunday
voanews.com – Oct 29
Japanese Prime Minister Fumio Kishida's term in office may be short-lived and his Liberal Democratic Party could lose its majority, according to recent polls by the Yomiuri Shimbun and Asahi Shimbun daily newspapers, Reuters reported.
Kishida's nuclear push faces resistance ahead of election
Reuters – Oct 28
Prime Minister Fumio Kishida's push to restart Japanese nuclear power plants idled after the Fukushima disaster faces stiff opposition ahead of a general election on Sunday, where his future as leader hangs in the balance if the vote is tight.
Japan to become world's No. 3 donor of COVID vaccine doses
Japan Today – Oct 27
Japan will become the world's third-largest provider of COVID-19 vaccine doses, with donations to 20 countries and regions set to reach 30 million following another planned delivery to Taiwan, the foreign minister said Tuesday.
Japanese rice tastier due to global warming, says Aso
Japan Today – Oct 26
Former Japanese Prime Minister Taro Aso said Monday that rice on the northernmost main island of Hokkaido "has become tastier thanks to (global) warming," a remark likely to raise eyebrows of climate campaigners.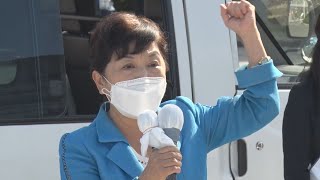 Japan parliamentary race hits record low for candidates under 40
Nikkei – Oct 20
Candidates in their 20s and 30s make up 9.4% and women less than 20% of those running in Japan's lower house election on Oct. 31, highlighting the country's continued struggles with incorporating new and more diverse viewpoints into its politics.
Lack of vaccination passport, testing threaten Japan's reopening
Reuters – Oct 20
Japan's lack of a vaccination passport and limited testing capacity is threatening ambitions to reopen the economy at a crucial year-end period when restaurants earn up to a half of their annual revenue and travel agencies are at their busiest.
---
Reader's opinions
---