---
Prime Minister Fumio Kishida said Thursday he will double as foreign minister until he relaunches the Cabinet after Japan's parliament convenes a special session next week.

His Liberal Democratic Party appointed Foreign Minister Toshimitsu Motegi to its No. 2 post of secretary-general on Thursday morning. Among candidates to succeed Motegi is former education minister Yoshimasa Hayashi, sources close to the matter have said.
Under the Constitution, the Cabinet must resign en masse when the first session of the Diet is convened after a general election. In a special session expected to be held Wednesday the Diet is set to reappoint Kishida as prime minister, and he will then relaunch the Cabinet.
The appointment of Motegi as secretary-general came after his predecessor Akira Amari resigned following his shock defeat in a single-seat district in Sunday's House of Representatives election. The development was an unprecedented humiliation for a sitting LDP secretary-general, with Amari having been in the post for only a month.
Marking one month since he became prime minister, Kishida told reporters Thursday, "Since I have gained the people's mandate through the general election, I now plan to speedily implement policies" on key issues such as the COVID-19 pandemic as well as economic and diplomatic challenges.
Motegi, a former policy chief for the LDP, heads one of the ruling party's seven major intraparty factions and backed Kishida in the party leadership race in September. He is also known for having close ties with former prime ministers Shinzo Abe and Taro Aso.
…continue reading
---
Kishida pledges $10 billion to support Asia's zero-emission path
Japan Times – Nov 03
GLASGOW, SCOTLAND – Prime Minister Fumio Kishida on Tuesday pledged up to $10 billion in funds over five years to assist Asia along the path to zero carbon emissions, seeking to show leadership in efforts to curb global warming on his debut on the world stage at a key U.N. climate summit.
Japan votes in lower house election
NHK – Oct 31
Japan is voting in its first general election in the pandemic era. It's an early test for Prime Minister Kishida Fumio, who took office less than a month ago.
Japan holds general election on Sunday
voanews.com – Oct 29
Japanese Prime Minister Fumio Kishida's term in office may be short-lived and his Liberal Democratic Party could lose its majority, according to recent polls by the Yomiuri Shimbun and Asahi Shimbun daily newspapers, Reuters reported.
Kishida's nuclear push faces resistance ahead of election
Reuters – Oct 28
Prime Minister Fumio Kishida's push to restart Japanese nuclear power plants idled after the Fukushima disaster faces stiff opposition ahead of a general election on Sunday, where his future as leader hangs in the balance if the vote is tight.
Japan to become world's No. 3 donor of COVID vaccine doses
Japan Today – Oct 27
Japan will become the world's third-largest provider of COVID-19 vaccine doses, with donations to 20 countries and regions set to reach 30 million following another planned delivery to Taiwan, the foreign minister said Tuesday.
Japanese rice tastier due to global warming, says Aso
Japan Today – Oct 26
Former Japanese Prime Minister Taro Aso said Monday that rice on the northernmost main island of Hokkaido "has become tastier thanks to (global) warming," a remark likely to raise eyebrows of climate campaigners.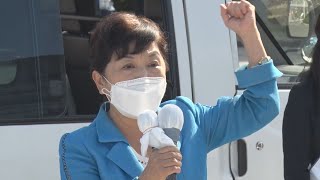 Japan parliamentary race hits record low for candidates under 40
Nikkei – Oct 20
Candidates in their 20s and 30s make up 9.4% and women less than 20% of those running in Japan's lower house election on Oct. 31, highlighting the country's continued struggles with incorporating new and more diverse viewpoints into its politics.
---
Reader's opinions
---