---
RSVP SOCA IN JAPAN TOUR
Written by tokyoclub on July 1, 2021
A cultural tour of Japan for Soca loves around the world
POSTPONED TO 2022
RSVP for SOCA IN JAPAN TOUR 2022: JAPAN SOCA WEEKEND EDITION
Please note some sightseeing activities may change for 2022 as we're always seeking to improve our product. Final itinerary will be announced by December 2021.
Sep 14 – 20th (2 days before JSW 2022 begins)
Preferred Hotels

Curated sightseeing (new for 2022)

JSW events (parties)

Bilingual Staff (English/Japanese)

Ground Transportation (Airport, Events, Sightseeing)
​
Additional Information
Full registration for tour package begins January 2022

This tour package is specifically designed for those that want that effortless experience.

Please note tour begins 2 days before (Sep 14th) Japan Soca Weekend 2022

Monthly payment plan available.
**New for 2022, the tour will allow customization and new sightseeing activities is being added.
First payment due 2 weeks after tour package goes on sale.

RSVP payment will go towards the remaining balance of the tour. 

failure to pay first payment after 2 weeks of the official date will result in forfeiture of funds, and reservation will be given to the next person in line.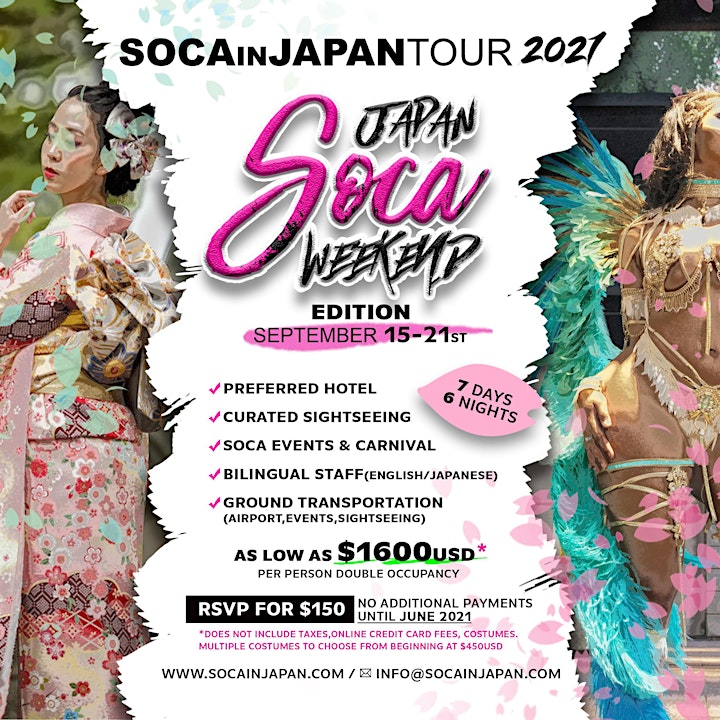 ---
Reader's opinions
---